A New EU Regulation on Digital Markets
A new European Digital Market Regulation (the Digital Markets Act) will become effective as of 2 May 2023. It emerged from the need to protect both individuals and businesses from the monopoly effects produced by technology tycoons on the online environment by. The effects of the not so clear regulations so far – such as the commercial exploitation of personal data, some questionable commercial clauses, influencing purchasing behavior – are expected to become easier to avoid under the new EU laws.
The new European Regulation places a number of obligations on the large digital platforms (known as gatekeepers) in relation to their own business partners (economic entities, known as business users), but also to the end users (consumers, or end-users). Gatekeepers will be subject to fines proportionate to their turnover – 10%-20% for the most severe cases of infringement.
Although the Regulation applies to essential platform services provided or offered by gatekeepers, it is also applicable to end-users who do not pay for services and products but provide personal data in exchange for these products and services. As regards the territorial criterion, the Regulation also applies to tech giants – Google, Facebook, Microsoft, Uber – even if they are based outside the European Union. In other words, the new provisions are here to protect business and end-users, resident in the European Union.
Whenever an economic operator which offers digitized platform services is designated – according to criteria clearly set out by the European bodies, such as size, number of individuals or economic entities concerned, uniqueness or essential nature of the services offered – as gatekeeper, it acquires clearly established obligations under the law.
The most important obligations of gatekeepers towards business users refer to the interdiction to set trade barriers in cases of identical or similar products or services, their ability to retain or access customers, the exercise of the right to seek protection in court against the gatekeeper, the right to fair treatment regarding the indexing and ranking of products and services, the right of access to the business user's own data generated in the gatekeeper's platform.
The obligations towards end-users focus on the protection of their personal data from profiling, uninformed use, use conditional on the purchase of other services, unauthorized distribution of data from their own platform to other gatekeepers, obligations inextricably linked to the provisions of the other European Regulation on the protection of personal data (GDPR).
In addition, gatekeepers are subject to operating according to principles such as fairness regarding the termination of essential services (which prevents the existence of a captive user), the right to use without undue hardship (regarding the complexity of the access to services considered to be essential), the obligation to notify concentrations (which seeks to prevent the creation of a data monopoly), the appointing of a compliance officer, the conduct of periodic audits regarding profiling.
The European Commission is the only body that can punish gatekeepers for infringements of the Regulation. In addition, the Commission has the possibility to apply interim measures in urgent cases where it finds that damages have been caused to business users and end-users.
Enforcement of the Digital Markets Act falls on lawyers – assisting in the drafting of compliance policies and procedures, representing in cases of scrutiny or investigation, acting as compliance officer, and acting as a liaison and assisting consumer groups with notification, complaints and access to justice.
Noile reglementări europene cu privire la piața digitală
Începând cu data de 2 mai 2023, va intra în vigoare un nou Regulament european privind piața digitală, apărut din necesitatea de a proteja atât persoanele fizice cât și pe cele juridice de efectele monopolului deținut în mediul online de giganții tehnologiei. Se estimează faptul că efectele slabei reglementări de până acum – precum exploatarea comercială a datelor cu caracter personal, clauzele comerciale discutabile, influențarea comportamentului de achiziție – vor deveni mai ușor de evitat în condițiile legislative noi ale Uniunii Europene.
Prezentul Regulament European pune în sarcina marilor platforme digitale (denumiți controlori de acces) o serie de obligații în raport cu proprii partenerii comerciali (entitățile economice, denumiți utilizatori comerciali), dar și cu utilizatorii finali (consumatorii, sau utilizatorii finali). Controlorii de acces vor fi expuși la amenzi proporționale cu cifra de afaceri – 10%-20% pentru cazurile mai grave de neconformitate.
Deși Regulamentul se aplică serviciilor de platformă esențiale furnizate sau oferite de controlorii de acces, acesta este valabil inclusiv pentru utilizatorii finali care nu plătesc pentru servicii și produse, ci oferă date cu caracter personal în schimbul acestor produse și servicii. În ceea ce privește criteriul teritorial, Regulamentul se aplică și giganților tehnologici – Google, Facebook, Microsoft, Uber – chiar dacă aceștia au sediul în afara Uniunii Europene. Cu alte cuvinte, noile prevederi sunt aici pentru a proteja utilizatorii comerciali și finali rezidenți ai Uniunii Europene.
În momentul în care un operator economic care oferă servicii de platformă digitală este desemnat – conform unor criterii clar stabilite de organismele europene, precum dimensiune, număr de indivizi sau entități economice afectate, unicitatea sau caracterul esențial al serviciilor oferite – drept controlor de acces, acesta dobândește în fața legii niște obligații clar stabilite.
Cele mai importante obligații ale controlorilor de acces față de utilizatorii comerciali vizează neinstituirea barierelor comerciale în situații de produse sau servicii identice sau similare, capacitatea acestora de păstrare a clienților sau a accesului la aceștia, exercitarea dreptului la justiție împotriva controlorului de acces, dreptul la tratamentul egal privind indexarea și ierarhizarea produselor și serviciilor, dreptul de acces la datele proprii utilizatorului comercial generate în platforma controlorului de acces.
Obligațiile față de utilizatorii finali sunt centrate pe protecția datelor cu caracter personal ale acestuia față de profilare, utilizare neinformată, utilizare condiționată de cumpărarea altor servicii, distribuirea neautorizată a datelor din propria platformă către alți controlori de acces, obligații legate indisolubil de procedurile celuilalt Regulament European, cu privire la protecția datelor cu caracter personal (GDPR).
De asemenea, controlorul de acces este supus funcționării conform unor principii precum echitatea privind încetarea serviciilor esențiale (care previne existența unui utilizator captiv), dreptul la utilizare fără dificultate nejustificată (cu privire la gradul de complexitate al accesului la servicii considerate a fi esențiale), obligația de a notifica concentrările (care dorește prevenirea creării de monopol de date), desemnarea unui responsabil de conformitate, efectuarea auditului periodic cu privire la profilare.
Comisia europeană este singurul organism care poate sancționa controlorii de acces pentru încălcarea Regulamentului. Comisia are dealtfel și posibilitatea de a lua măsuri provizorii în caz de urgență în constatarea unor prejudicii pentru utilizatorii comerciali și utilizatorii finali.
Aplicarea Regulamentului European privind serviciile digitale cade în sarcina avocaților – asistență la întocmirea politicilor și procedurilor de conformitate, reprezentare în cazul controlului sau investigațiilor, îndeplinirea funcției de responsabil de conformitate, instrumentarea și asistarea grupurilor de consumatori în demersuri de notificare, contestare și acces la justiție.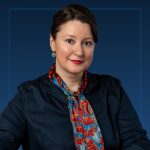 More articles from the same author
Alina Moldovan

#molongui-disabled-link

Alina Moldovan

#molongui-disabled-link

Alina Moldovan

#molongui-disabled-link